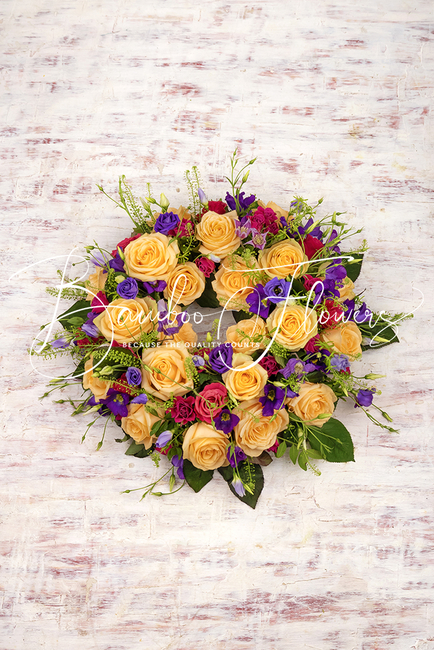 (0 customer reviews)
Blue & Peach Wreath
Details
Substitutions
Size Guide
Delivery
Blue & Peach Wreath
Stunning full wreath decorated with peach roses, purple lisianthus, red spray roses
Please note that we do our best to create bouquets and arrangements that replica the product display. Because of the nature, seasonality and regional availability of flowers it is sometimes necessary to make substitutions of equal or greater value.
If you have any special requirements please contact our team at:
Displayed image is of a 20" (51cm) option tribute.
14" (36cm) Outside diameter: 8" (21cm) Inside diameter
16" (41cm) Outside diameter: 10" (25cm) Inside diameter
18" (45cm) Outside diameter: 12" (30cm) Inside diameter
20" (51cm) Outside diameter: 14" (34cm) Inside diameter
24" (61cm) Outside diameter: 16" (37cm) Inside diameter
Our Flowers are delivered with care
Same-day Surrey & London delivery - For same-day delivery service, please order before 1.00pm, Monday - Friday.
For Surrey & London services on Saturdays, place your order before 12.00pm
Our team will endeavor to deliver to the recipient. However, if no one is at home
a delivery note will be left with details on where the flowers has been left.
Unfortunately these flowers are unavailable for Nationwide Delivery
Did you like the product? Share and support us!
£65.00
Choose your option...
14" (36cm)
16" (41cm)
18" (45cm)
20" (51cm)
24" (61cm)
Similar products