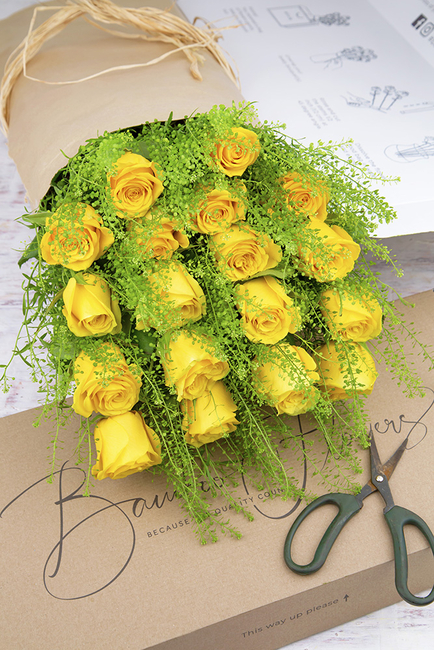 (0 customer reviews)
18 YELLOW ROSES
Details
Substitutions
Delivery
Yellow Roses and green dragon are packed in our Bamboo Flowers signature gift box.
A gift box of yellow roses says - With their optimistic hue and general association with good cheer, 12 Yellow Roses are the perfect way to lift spirits and send a general wish for well-being. The roses is know for its simple, architectural beauty.
For the ultimate in romantic gestures, we use only the finest roses with the deepest shade of yellows roses, hand-picked by our dedicated growers.
Each rose is chosen individually for its colour and form, with care throughout their fifteen-week growing time, allow them to reach an impressive length and stunning colour.
Your roses will arrive by courier in fully recyclable packaging and is 100% plastic-free!
Please note that we do our best to create bouquets and arrangements that replica the product display. Because of the nature, seasonality and regional availability of flowers it is sometimes necessary to make substitutions of equal or greater value.
If you have any special requirements please contact our team at: info@bambooflowers.co.uk
Our Flowers are delivered with care....
Our national delivery days are Tuesday to Saturdays
We deliver by overnight courier for orders placed online by 1pm
For same-day local delivery service, please order before 1.00pm, Monday - Saturday
Our team will endeavour to deliver to the recipient. However, if no one is at home
a delivery note will be left with details on where the flowers has been left.
Did you like the product? Share and support us!
£54.00
Choose your option...
18 Yellow Roses
24 Yellow Roses
36 Yellow Roses
50 Yellow Roses
Similar products