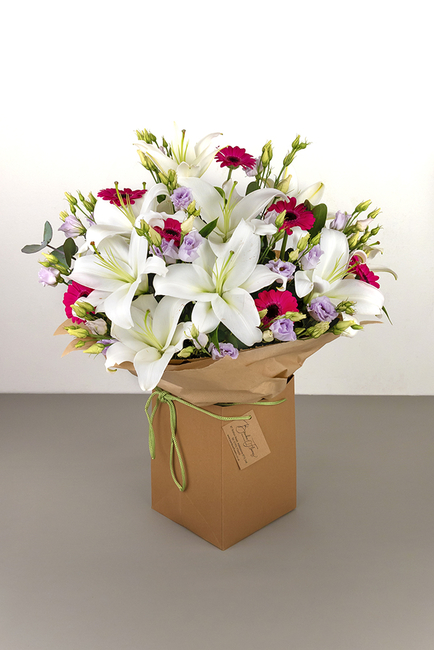 (0 customer reviews)
Lilies & Gerbera Bouquet
Details
Substitutions
Size Guide
Delivery
Supreme elegance prestigiously designed with our wonderful white lilies embraced with glorious germini flowers. Lilies & gerbera bouquet is celebrate with luxury lisianthus and dashes of vibrant colours.
The bouquet pictures is the extra large option
Some of our flowers may arrive in buds, ready to bloom
Please note that we do our best to create bouquets and arrangements that replica the product display. Because of the nature, seasonality and regional availability of flowers it is sometimes necessary to make substitutions of equal or greater value.
If you have any special requirements please contact our team at: info@bambooflowers.co.uk
Please note the bouquet / arrangements pictured is the Extra Large option, some of the flowers will arrive in bud, ready to bloom.
Our Flowers are delivered with care....
Our national delivery days are Tuesday to Saturdays
We deliver by overnight courier for orders placed online by 1pm
For same-day local delivery service, please order before 1.00pm, Monday - Saturday
Our team will endeavour to deliver to the recipient. However, if no one is at home
a delivery note will be left with details on where the flowers has been left.
Did you like the product? Share and support us!
£39.99
Choose your option...
Standard Price
Large
Extra Large
Make it an extra special gift
You can change quantity of gifts on check out.
Similar products